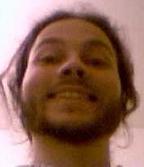 Ronan Le Hy
From September 2002 to May 2007, I prepared a PhD in the Laplace group of the e-Motion team, in the GRAVIR laboratory, at INRIA Rhône-Alpes, in Grenoble. I defended my PhD in April 2007. I have worked under the supervision of Pierre Bessière and Olivier Lebeltel.
I am interested in writing Bayesian models to control autonomous synthetic characters such as those in computer games. One outstanding advantage of the Bayesian approach is that is allows a human player to teach a behaviour to a character controlled by the computer.
Publications
You may download my PhD thesis (in French only): Programmation et apprentissage bayésien de comportements pour personnages synthétiques -- application aux personnages de jeux vidéos (PDF, 5.4 Mo). You can also take a look at the slides of the presentation (PDF, 8.3 Mo).
You may also refer to :
Le Hy, R., Arrigoni, A., Bessière, P., Lebeltel, O.; (2004); Teaching Bayesian Behaviours to Video Game Characters; Robotics and Autonomous Systems (Elsevier), Vol. 47: 177-185 (PDF(154 Ko))
Le Hy, R., Arrigoni, A., Bessière, P. & Lebeltel, O.; (2003); Teaching Bayesian Behaviours to Videogame Characters; Proc. of the IEEE-RSJ Int. Conf. on Intelligent Robots and Systems (IROS), Las Vegas, USA
Le Hy, R., Bessière, P., Lebeltel, O. & Bellot, D. ; (2003) ; Learning Bayesian Behaviours for Videogame Characters; European Workshop on Reinforcement Learning - EWRL6, September 4-5 2003, Nancy, France
My Master's thesis (DEA) : Programmation Bayesienne de Personnages de Jeux Video (PDF in French, abstract in French)
Movies
Misc
This is http://emotion.inrialpes.fr/people/lehy/.